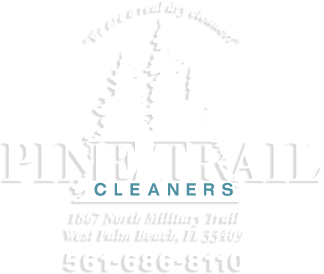 At Pine Trail Cleaners, we call ourselves a "Real Dry Cleaner".  This is because we do all of our cleaning work on the premises, not send it out like many other cleaners.  You can come visit us to see and talk to the people who actually clean and press your clothes.
We offer same day service on dry cleaning upon request (at no extra charge) on orders brought into the cleaners by 9:30am Monday thru Saturday.  Next day service is always available.
Other services available (offsite):
Alterations and minor repairs

Wedding Gown Cleaning and Presrvation

Leather, Suede and Fur Cleaning
We also have an office pick-up and delivery service available in a limited areas in West Palm Beach.
Please call for more information.